Since the MedCHEMBio2021 conference had to be cancelled due to COVID-19, a webinar was organised to ease the suffering. On the 27th of May 2021 Prof. Luc Brunsveld presented his work.
Luc Brunsveld: "Our group combines organic synthesis, protein chemistry, structural biology, and supramolecular chemistry to perform chemical biology studies on protein-protein interactions (PPIs) with the aim to enable innovative medicinal chemistry for 'molecular glues' for PPIs. In this presentation I aim to show that a "supramolecular" point of view to protein-protein interactions (PPIs) helps to unravel the underlying, more complex, interaction mechanisms. This 'systems approach' to PPIs allows to recognize and apply concepts such as multivalency and cooperativity within the context of drug discovery. Using nuclear receptors and 14-3-3 proteins as examples the webinar aims to provide answers to questions such as:
How can chemical biology studies steer medicinal chemistry for PPIs?
What are the key physical-chemical characteristics of molecules that stabilize PPIs?
How can we find chemical starting point for PPI stabilization?"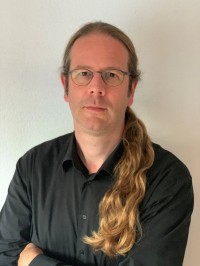 Luc Brunsveld is professor of chemical biology at the TU Eindhoven and was previously group leader at Organon and at the Max Planck Institute for Molecular Physiology. The research of the TU/e team centers around the molecular understanding and medical intervention of protein-protein interactions. The group aims to develop novel concepts for small molecule protein-protein interaction stabilization and in conceptual supramolecular cooperativity and multivalency concepts dealing with protein-protein interactions. Next to fundamental scientific research, the group is also active in translational activities, for example in the field of clinical chemistry and via venture-backed biotech start-up AmbAgon Therapeutics Inc. (scientific co-founder). Luc enjoys teaching about molecules and their interactions.

View the webinar below.