Introduction
In 1988, the KNCV Section Farmacochemie established a biannual award to be granted to the most outstanding doctoral dissertation in medicinal chemistry by a PhD student at a Dutch university. The first five prizes, the so-called MFR Medicinal Chemistry Prizes, were sponsored by MFR, a Dutch foundation aimed at promoting medicinal chemistry research. In 1998, sponsorship was taken over by Stichting Farmacochemische Congressen. The prize was sponsored by Mercachem (2010-2017) and MercachemSyncom (2018-2020), and since 2020 is sponsored by Symeres. As of 2020, the Section Farmacochemie broadened her scope by changing her name to KNCV Medicinal Chemistry & Chemical Biology (MCCB). Accordingly, the biannual award is granted to the best doctoral dissertation in medicinal chemistry or chemical biology by a PhD student at a Dutch university.
KNCV Medicinal Chemistry & Chemical Biology - Dutch PhD Thesis Prize 2019-2020
Dr. Natalia V. Ortiz Zacarías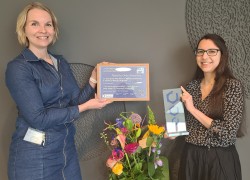 On 27 May 2021, during the webinar of the Division Medicinal Chemistry of the KNCV, Dr. Natalia V. Ortiz Zacarías will be awarded the Dutch Medicinal Chemistry Prize 2019-2020 for her dissertation entitled "The road to insurmountability – Novel avenues to better target CC Chemokine Receptors". The prize - consisting of a certificate, a small sculpture, and a EUR 1,000 cash prize made available by sponsor Symeres - is awarded for the best dissertation in the field of medicinal chemistry and chemical biology published between 1 January 2019 and 31 December 2020.
In December 2019 Dr. Ortiz Zacarías obtained her PhD grade at the Leiden Academic Centre for Drug Research of Leiden University for the research performed under the supervision of Prof. Dr. Laura Heitman and Prof. Dr. Ad IJzerman. The panel of judges consisted of Dr. Anna Junker (Westfälische Wilhelms-Universität Münster), Dr. Uwe Grether (Roche), Prof. Dr. Laura Heitman (Leiden University) and Dr. Koen Hekking (Symeres). After stringent rules for selection by principal investigators nine dissertations were submitted for consideration by the judges.
Dr. Ortiz Zacarías' thesis describes the identification, synthesis and characterization of novel insurmountable antagonists to more efficaciously target chemokine receptors. The research is original and groundbreaking, all focused on the chemokine CCR2 receptor, as an exemplary drug target. The work is multidisciplinary with research techniques ranging from synthetic organic chemistry, structural biology, biochemical evaluation, cellular assays and even in vivo mouse disease models. The research resulted in twelve publications in top journals, including six where Natalia was 1st author. Noteworthy are the publications in Nature, Trends in Pharmaceutical Sciences and several in the Journal of Medicinal Chemistry.
Natalia Ortiz Zacarías will present the winning work as representative of The Netherlands at the 8th EFMC Young Medicinal Chemist Symposium (EFMC-YMCS) September 9-10, 2021 (virtual event).
On behalf of the KNCV-MCCB board,
Peter Molenveld (Secretary)
Symeres (Mercachem)
Kerkenbos 1013
6546 BB Nijmegen
peter.molenveld@symeres.com